Welcome to The Print Shop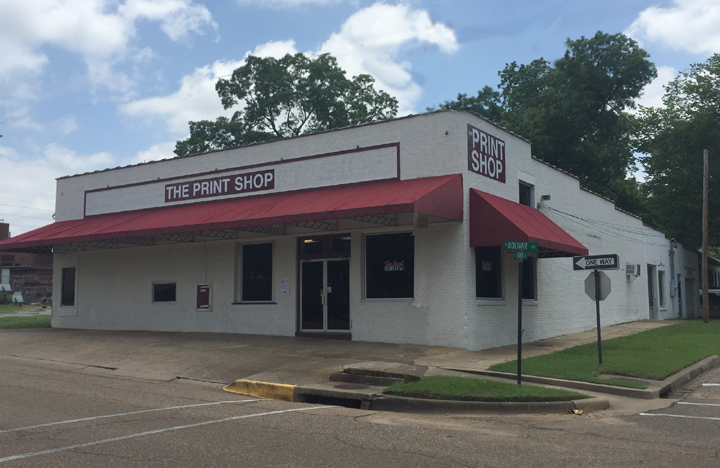 PLEASE NOTE: Due to COVID-19, our front office is currently closed to walk-in business, this includes the temporary suspension of copy and fax services.
We can take orders by phone, fax, email, and at the door. We also have curbside pickup.

We will also be closed on Fridays until further notice.
Thank you for taking the time to visit our website. Since our company's founding in 1982, we have experienced a great deal of growth. We have taken over the customer's printing accounts from several area print shops that have closed in recent years, such as J&M Graphics in Greenwood, Bradley Printing in Marshall, and Barrett Enterprises' EconoPrint in Longview.
The Print Shop has created a spot in the local print market that separates us from other area printers. We are a family owned and operated shop with clients ranging from large corporations to antique shops to school districts located not only around East Texas, but in many states across the country.
Over the years, we still remain true to our original mission: providing our customers with exceptional, dependable and friendly service, fast turnarounds, the highest quality and reasonable prices.
We have a skilled staff to help our customers with all of their printing and copying needs. We keep most jobs physically on file for over 4 years to help speed-up turnaround times, and have digitally archived most jobs generated from as far back as the 1980's.
From digital prepress to the press room to bindery, The Print Shop offers a wide range of products that are on time and priced reasonably. We now make the process easier by offering on-line price quotes; high quality proofs; and free delivery to areas around Longview and Marshall.
The Print Shop has remained at the forefront of the quick printing industry in the Northeast Texas area for over thirty years. We strive to remain current with technological advances by regularly purchasing new equipment, training our employees on the latest developments in printing, and expanding our facilities to make room for new equipment.
I feel confident that The Print Shop can enhance your printing needs by offering you high quality, professional customer service, cost saving ideas and fast turnarounds.
Bill Whitis, Owner